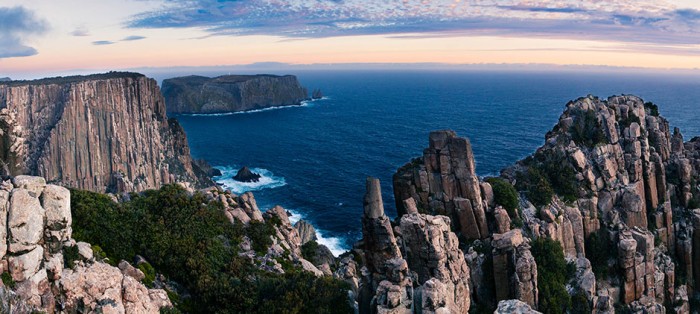 Can you walk the Three Capes Track
for cost of a Parks Pass?
The answer is yes, if you only want to visit Cape Pillar …and stick to a few rules.
I must premise this article by stating I am not against the Three Capes Track experience. The combined trip sounds incredible and if I was a fan of luxurious adventure and could justify the $495 expense, I would be jumping at the opportunity. But unfortunately I can't. So where does this leave hikers like myself who still want to enjoy the jaw dropping spectacle that is Cape Pillar?
I suspect you will agree that the opening of the Three Capes Track has caused significant confusion around this question. In the midst of all the celebration for this world class hiking experience, information regarding alternative (and hopefully cheaper) access has been overlooked or under publicised.
However, new information available from Parks and Wildlife regarding the Cape Pillar Track states:
"Walkers can access Cape Pillar via the old Cape Pillar track from Fortescue Bay. It is a 29 km round-trip walk. A formal campsite is provided at Wughalee Falls with tent platforms, toilet and rainwater tank." (Monday, 11th of Jan 2016)

Note: As of 2020, an adjacent campsite is also available at Bare Knoll.
For hikers like myself who choose the Homebrand sultanas over the Sunbean variety in order to cut down scroggin costs, this is fantastic news! Having delved further, this information also applies to those wishing to include Cape Hauy as a longer circuit walk.
What can't you do?
Basically, you can't camp or walk anywhere else along the track. Camping is only allowed at the Wughalee Falls. Other sites such as Tornado Ridge, Lunchtime Creek, Hurricane Heath and Perdition Ponds are now all closed for rehabilitation.
Walking beyond Tornado Ridge towards Arthurs Peak and Denman's Cove is also not permitted due to the spread of Phytophthora root rot in the National Park. In order to minimise this spread, walking the Three Capes Track is only allowed in an anti-clockwise direction. This means walking beyond Cape Hauy in a clockwise direction is also not permitted.
Other than these few things, access to Cape Pillar along the Three Capes Track is basically the same.
A closer look at Wughalee Falls
For those familiar with Wughalee Falls, the outlook for enjoying the camping element of your hike isn't great. Nestled in the shadows of Mount Fortescue, the camp ground is quite dark and damp and offers no view. Be warned the area is also home to ridiculous amounts of leeches and mosquitoes. Ultimately however, hiking to Cape Pillar should never about how you sleep, after all its the views at the end that we long for.
Upgrades to the site do however suggest nice improvements. 6 raised camping platforms have been established and water is available from the creek and rainwater tanks. It is also important to note that the water available at Wughalee Falls and the adjacent Retakunna Creek is the only water available as independent walkers.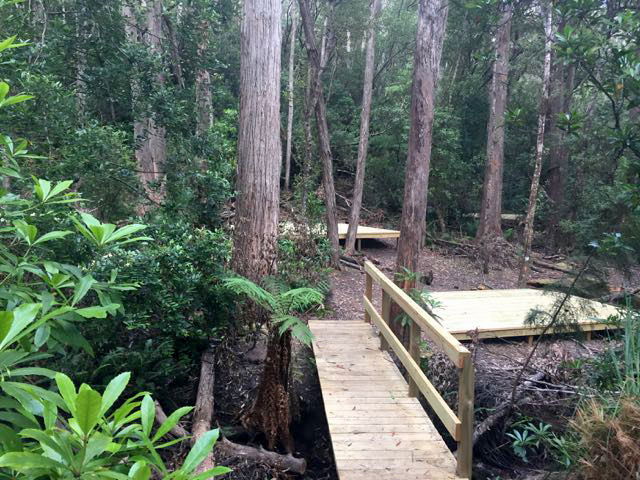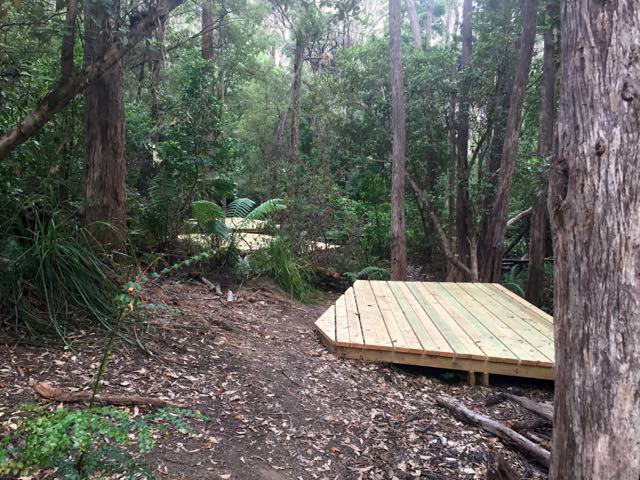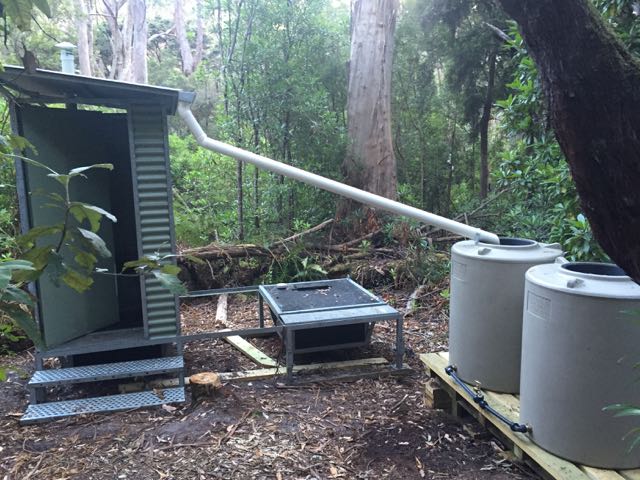 Thanks to bushwalk.com forum member DanShell for allowing us to use his photographs.
What are the track differences?
The original Cape Pillar alternatives still shape up well against the Three Capes Track. With only the short section between Denman's Cove and Tornado Ridge missing, you won't miss out on any major components of the trail by walking directly to Cape Pillar. You will of course miss out on the cruise and cabin accommodation options.
The walks in summery:
Three Capes Track: Leaving Port Arthur and finishing at Fortescue Bay, this 4 day – 46km track is the ultimate in luxury hiking. Climb aboard the chauffeured boat and begin your hike witnessing the incredible dolerite cliffs from ocean level. That truly is impressive. From there its an easy and relaxed walk along platformed and even stepped tracks. Accommodation each night is in comfortable cabins with fantastic views from 2 of the 3 spots. No particular day is challenging, 17km being covered on the three day being the most challenging taking about 6 hours.
4 Days, 46km, Medium Difficulty, Cost $495 for adults
Cape Pillar Circuit: Leaving and finishing at Fortescue Bay this 3 day, 38km track includes the best of the Cape Pillar area without the luxuries or expense of the Three Capes Walk. No boats or ocean level views here. Though the incredible view from the top is still the same. While the camp location isn't ideal, it isn't too bad and acts as a base to experience Cape Pillar as a day walk (no packs needed!). No particular day is challenging along this route, the longest 17km day back to Fortescue via Cape Hauy is completed in about 6 hours.
3 Days, 38km, Medium Difficulty, Cost $30 for adults (price of a 8 week Parks Pass)
Cape Pillar Direct: Leaving and finishing at Fortescue Bay this 2 day, 30km track goes directly to and from Cape Pillar with minimal fuss via the inland track. Again, no luxuries here. No boats or ocean level views, though the incredible view from the top is still the same. Cape Hauy and Mount Fortescue are also off the cards. That's okay though, we didn't come for those. Accommodation isn't great. While the camp location isn't ideal, it isn't too bad and acts as a base to experience Cape Pillar as a day walk (no packs needed!). One of your days will be long and challenging, about 20km and 7 hours while the other will be short and sweet. This does allow for an early evening swim at Fortescue Bay once completed.
2 Days, 30km, Medium Difficulty, Cost $24 for adults (price of 2 day Parks Pass)
Camp and Cabin locations for each walk, along with track details have been highlighted on the maps below.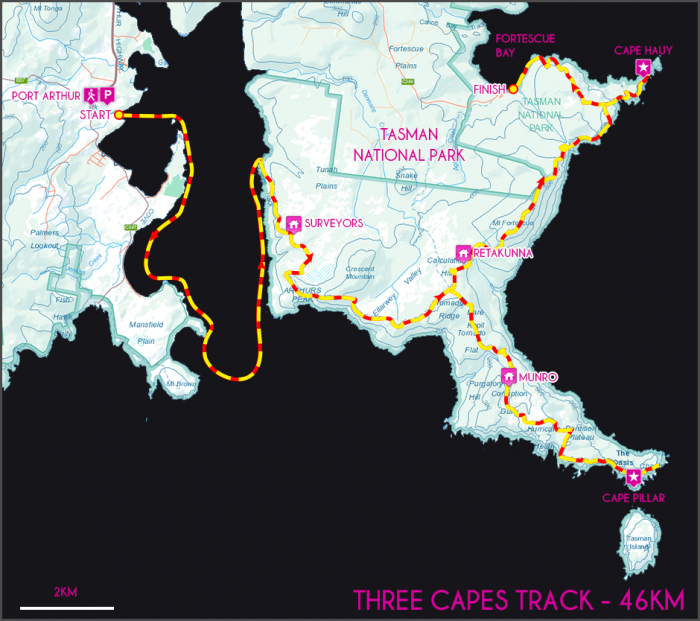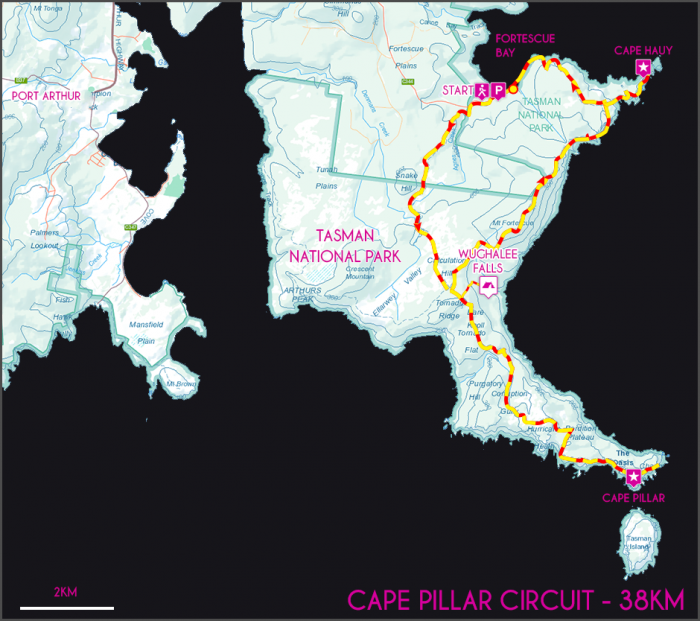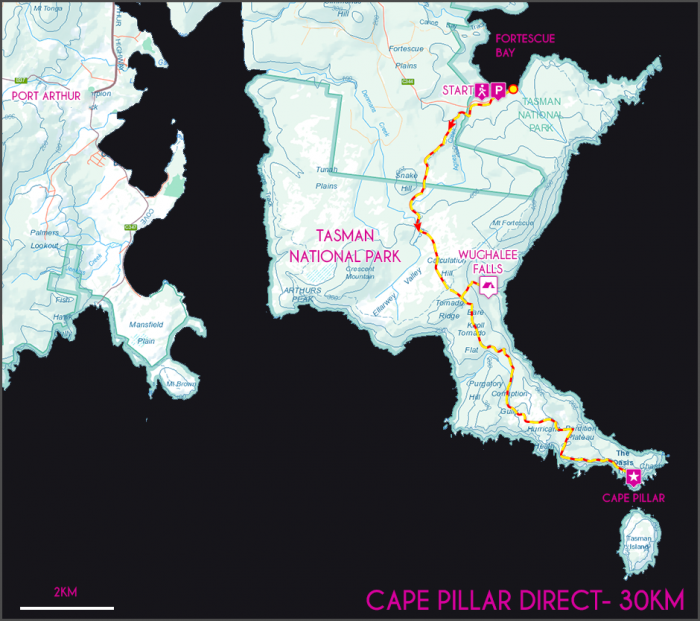 Please note these maps are for illustrative purposes only. Base map supplied by Land Information System Tasmania.
Hopefully, this guide has begun to clear up any confusion. If any information appears incorrect or you would like to provide further details, please feel free to contact us.
Happy Hiking!